Translate Text in Google Spreadsheets Using GoogleTranslate Function is an effective way to translate text in bulk to another language.
Please refer the image for for original text and it's translated version in some 6 other languages.
In can be used for translation in multiple languages, because GoogleTranslate function supports 10's of languages including Tamil, Telugu, Gujarati etc.
GOOGLETRANSLATE Explained:
Please refer the pic below for getting an idea about "GOOGLETRANSLATE" function and it's variables.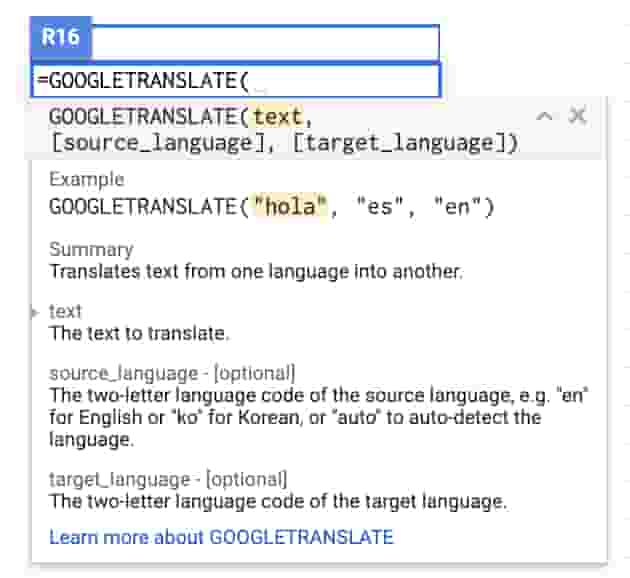 where,
text: is the text to be translated into another language
[source_language]: Original language of the text
[target_language]: Target language of the text
Support link to get language codes for translation:
GoogleTranslate Language Codes List: Link
Apart, from GOOGLETRANSLATE we also have other articles as well related to viz.
VLOOKUP: This articles briefs about ways to merge different tables in GoogleSheets or Excel
Creating & Editing Spreadsheets: This article has a brief introduction about the GoogleSpreadsheet, it's various functions, types of documents it supports, options available under various tabs in menu, difference between GoogleSheets and Microsoft Excel, Advantages of using GoogleSheets etc.
SUMIF & SUMIFS: This article briefs about summing based on single or multiple criteria
Other Article Links:
COUNTIF
COUNTIFS
PIVOT
REMOVE DUPLICATES
PUBLISHING ON WORDPRESS
TEXT ANALYTICS
NUMERICAL ANALYSIS
VISUALIZATION
Also, we have "Book Summary" section as well which has in-depth summary of famous books like currently it has summary of "Greatest Salesman in the World".
And GK section which is full of MCQ's for static general knowledge.
Do let us know if you want us to write on article of your interest or if you want any further explanation on any existing topic.
For more articles like "Translate Text in Google Spreadsheets Using GoogleTranslate Function" please leave a comment.